A Life Changing Move To Estepona!
---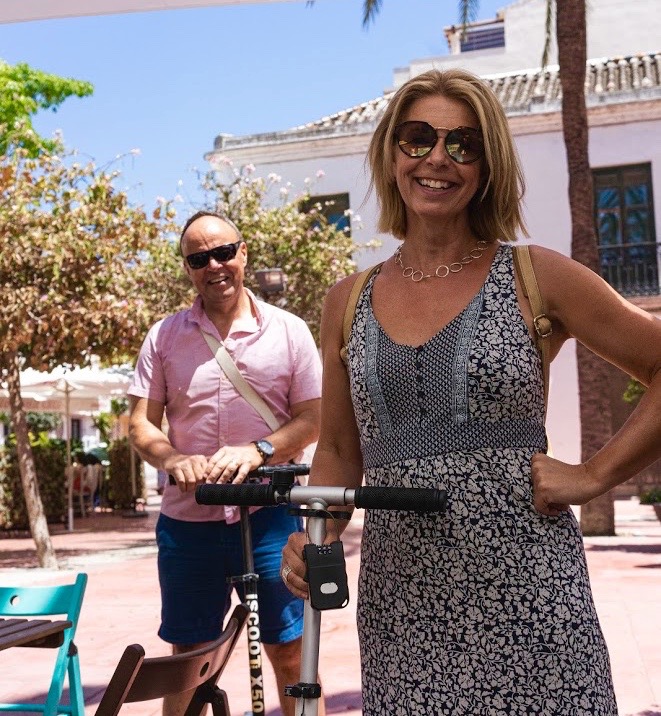 We asked our lovely clients, Megan and John, to share a few words about their new life in Estepona. This is what they had to say:
We've lived in Spain almost two and a half years now. We rented at first but a year ago we moved into our own apartment courtesy of Future Homes. Since then, we have renovated inside and out to suit our needs and formalised our residency. We decided to import our two cars; because one is special, a Nissan Figaro, but also because second hand cars here are quite expensive in comparison to the UK. We have exchanged our driving licences without the need to take lessons or a test. Driving here is a little different, for example double parking is apparently legal even on roundabouts as long as there is no impediment to others! As we have such amazing weather in Estepona year around, we enjoy scooting into the old town and leaving the car at home (as seen in this photo!)
While not necessary, we believe it is important to learn the language and customs so that we can better enjoy life here – which we do! This includes understanding all at our church without the need for translation. We recently counted up the different nationalities represented by our circle of friends and acquaintances and its almost 30 – and growing! That may explain why we feel so busy although we don't work. (Our eldest son says that we have re-calibrated being "busy").
There's not much that we do not love about being here. We have family and friends back in England but we can easily visit them and they of course can take advantage of a bargain holiday over here. If we need a bit of England there is Gibraltar nearby. If we want to ski, then there is Sierra Nevada. If we want a change of scenery, then there is the Atlantic coast up to Cadiz. But we love Estepona, the town, people, beaches, abundant flowers, amenities, outdoor lifestyle but also the tranquility; and of course, we love our apartment and always feel a 'ching' when we walk in and see the fantastic view over Cristo Bay out towards Gibraltar and Africa. Life is good! 
---
Most read
---
Related posts
---
Follow us
---
Sign up to our newsletter
---