Buying A Property In Spain? Top 5 Tips You Need To Know!
---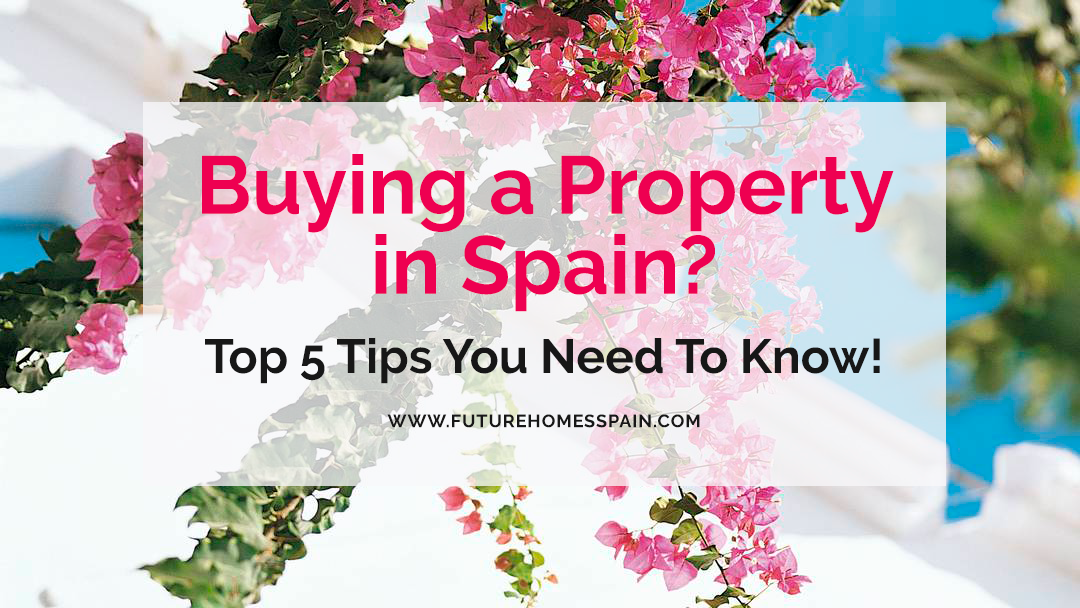 18 years is a long time! Future Homes has seen the property market evolve in Estepona and on the Costa del Sol since 1999. Although there are many variable factors that have changed over the years, our advice and our "top tips" remain the same for buying a home in Spain, no matter where or when you do it!! You will not go wrong if you use this article as a guide.
1 – LOCATION. Spain is a large country, we are so proud of the mixture of cultures and traditions that make this country so unique. To narrow it down slightly, if you are considering the Costa Del Sol and do not know where to start, then think.. "What do I want out of my property in Spain". If you love authentic Spanish character, fantastic restaurants and an amazing infrastructure, then Estepona is the place for you. It is important to consider factors such as hospitals, proximity to airports, investment in the town and overall demand for the area. Although the internet is a great tool, there is nothing quite like visiting a place to get a feel for the environment. Further along the coast there are towns such as Benalmadena, Torremolinos and Fuengirola which a lot more influenced by the British culture, as is the case with La Duquesa. If you are looking for an exclusive community of villas with 24h security, then Sierra Blanca in Marbella or Sotogrande is the place for you. Do your research, but overall spend some time on the costa to really get to know the area and where you want to be.
2 – CHOSE A REPUTABLE AGENT. This is one of the most important decisions you will make when purchasing a property in Spain. No matter where you buy, you are advised to work with a well established agency which has been working in that specific area for a number of years. In this business there is nothing like experience to guide you correctly though the purchase process. Experience is also essential when valuing a property correctly, in order to establish a correct market price, the agent has to know the area and each community very well indeed, this will guarantee that you are purchasing at the right price. Furthermore, a reputable professional will have very good contacts in local banks, law firms and the Town Hall (so important!). Aside from having a qualified Lawyer on our team, we have encountered many situations over the years that we have easily been able to resolve due to our knowledge, contacts and perseverance. We cannot do enough for our clients and it is our pleasure to help in any way we can, before, during and many years after a sale.
Before finding us, many of our clients were very frustrated when dealing with agents who form part of a multiagency system. They would turn up for a viewing to a property that did not match their requirements, only to be greeted by several people they did not know. This is due to the fact that many agents share their listings and often there can be up to three companies involved in the same deal. Although this system works for some, we recommend choosing an agent who has their own direct listings, appointed by the owners, this way they will know everything about the property (including the legality) and they will be able to satisfy your needs. More often than not, this will be an experienced agency.
3 – WHAT DO YOU WANT FROM A PROPERTY? Once you have decided where you want to be and who you want to work with, it is important that you decide what you want from a property. You will most likely need to compromise on something, therefore knowing what you want will help you to narrow down the best options from the start. The top questions would be:
Do you want to be within walking distance to the beach and amenities?
Is a sea view the most important thing for you?
Do you need at least 3 bedrooms or could you settle for 2?
Would you like a south facing property?
Are you happy to be further from the coast if you have large garden and private pool?
If you can answer these questions, it will not only make things a lot clearer for you, it will also be of great help to your agent when matching listings to your price range.
4 – APPOINT A LOCAL LAWYER. Every estate agency has their own unique way of working. At Future Homes we are 100% involved in the purchase and sales process from beginning to end (and more!), this means that we are in close contact with lawyers, community offices, utility companies and banks on a daily basis. Appointing a reputable local Lawyer is advisable for foreigners who are purchasing a property in Spain as they are completely independent from the agent and will act as your legal representative. Aside from carrying out all of the necessary legal searches on a property before the purchase, they will be there after the purchase to set up your utilities and manage the bureaucracy involved with owning a property in Spain. In our experience, things run smoothly when a Lawyer knows the town or city in which a property is located, as there are many laws and regulations that are specific to a certain area depending on their Town Hall. We work with a variety of lawyers, but mostly with an established firm of three brothers who have been working in Estepona for over 20 years!
5 – MANAGE YOUR PROPERTY. Once you own your dream home in the sun, it is important to "keep on top of things". Certain payments will be made by direct debit, such as your utilities, community fees and your annual rates if they were setup with the Town Hall via your lawyer. It is worth checking this because if your annual rates (IBI) have not been setup as a direct debit, you will receive the bill to your Spanish address and if you are not there to pay it, eventually it will appear as an embargo on your property. It is so easy to forget about these things simply by mistake, and it takes a lot of work later to rectify something that could have been easily avoided. Your lawyer can keep check of things for you if you continue to use their services after your purchase. Making sure you keep enough funds in your Spanish account will also avoid future problems with mortgage payments and direct debits.
We hope you find these tips useful – Just a few bits of advice to make your life in the sun as stress-free as possible!!
To find our more, check our Future Homes Buyers Guide or contact us directly.
Happy property hunting,
The Future Homes Team
---
Most read
---
Related posts
---
Follow us
---
Sign up to our newsletter
---